DESCRIPTION
After ascending the seven slopes at the end of Sacromonte's road , we find ourselves facing a monumental site. Although the Abbey's Architectural presence is that of a grand one-piece building, its construction is one of evolution and growth. So much so, that we can describe its chronological evolution not in layers but following an East to West growth pattern, where, first, we find the Sacred Caves and their Chapels, then, the Old College and, finally, the Baroque Church integrated within the Rectory building frontal façade. There is a Choir on the upper floor of the Church, with a Baroque structure and wood-carved stalls. The tomb of the Abbey's founder, Archbishop Pedro de Castro, is inside a chapel to the right of the Church's altar. Within the Abbey, there is an organic connection between the Church, the Sacristy and the grand Cloister.
We are facing an actual Abbey, still a living contemporary building which is fulfilling its functions; where the faithful can come to pray, celebrate the Eucharist and all kinds of events. Following our westward direction, there is a third body attached to the Rectory building: It is the student residence which,
together with the New College building at its back, are the most contemporary constructions and have been in use until recently.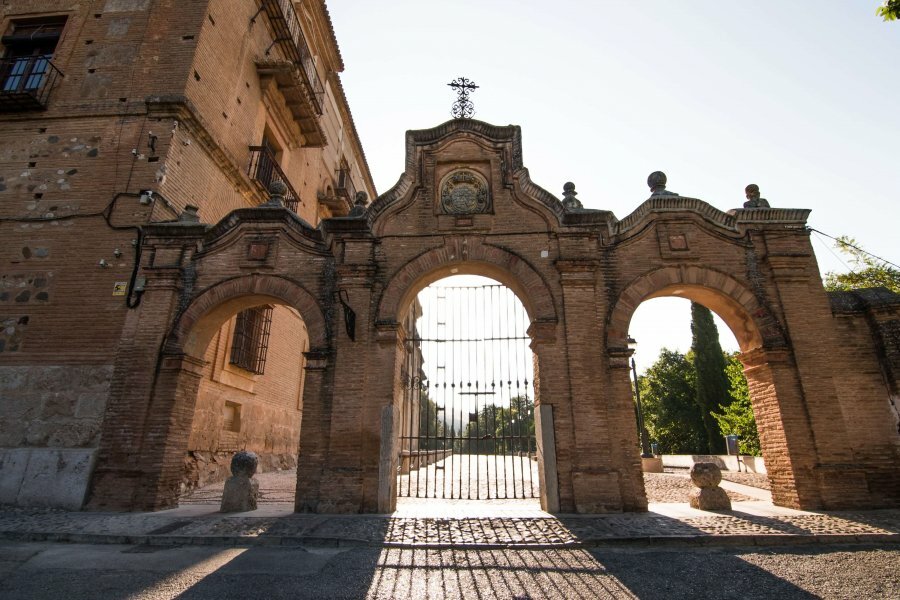 All the different buildings stand forming a harmonic unity, which attracts the attention from almost any location in the old town of Granada; especially from Granada's main monument, the Alhambra. From the Abbey itself, impressively crowning Valparaisos's hill,
the views of the Alhambra, the Cathedral and Granada's old town are astounding.